About MUC

(MUC) was incorporated in Malaysia on 19 January 1987, as a private limited company under the Companies Act, 1965.
Under the Greater Ipoh Water Supply Phase II privatization programme, was awarded the Built-Operate-Transfer concession by the State Government of Perak to source, treat and supply treated water to Lembaga Air Perak (Perak Water Board) for distribution to a selected concession area in Perak. For its excellent performance in management and efficiency in providing the highest standards in water supply to the State of Perak, was awarded a concession of 35 years for its services.
The scope of work outlined by the Concession Agreement is summarized as follows:-
Operations, maintenance, upgrading, automation, restoration, extension and management of the existing Sultan Idris Shah II (SISII) and Ulu Kinta treatment plants;
Construction of main pipelines, reticulation systems, reservoirs and booster station; and
Operations, maintenance and management of the Sungai Kinta Dam and a new treatment plant together with other ancillary facilities.
is registered with CIDB (Lembaga Pembangunan Industri Pembinaan Malaysia) Grade G7.
was awarded the ISO9002:1994 in 1999, and have renewed the ISO9001:2000 in 2005 - the highest award for Treated Potable Water System.
was also awarded the National Excellence Award for Occupational Safety and Health 2001, and the Gold Award 2002 by the Malaysian Society Occupational Safety and Health for its efforts in pursuing a Safety Policy for its employees.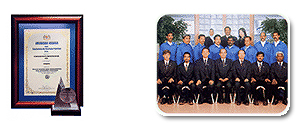 ^ Top