Project & Services
Bulk Water Supply in Greater Ipoh Region
operates two (2) water treatment plants, namely SIS II and Ulu Kinta, with a water production of 412,000 cubic meter a day, contributing approximately 30% of treated water to the State of Perak.
Sultan Idris Shah (SIS II) Water Treatment Plant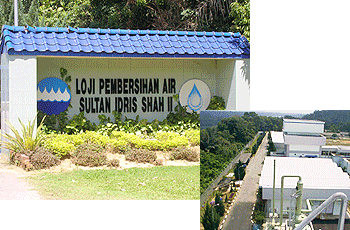 This water treatment plant, with the source of raw water supply from the Perak River was originally designed for 91,000 cubic meter per day production. , under the Greater Ipoh Water Supply II Privatisation Concession upgraded the plant to 3-folds to 276,000 cubic meter per day production with the installation of Dissolved Air Flotation (DAF) method of clarification. pioneered the use of DAF system in Malaysia, and is now a showcase for other potable water undertakings in the country.
Ulu Kinta Water Treatment Plant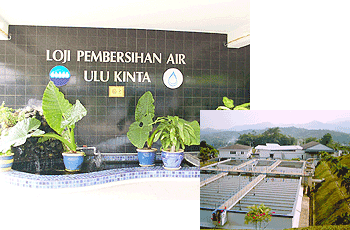 This water treatment plant started its operations with the capacity of producing 91,000 cubic meter per day of treated water. The production capacity of this water treatment plant has been upgraded by 50% to 136,000 cubic meter per day by .
Raw water for this treatment plant is obtained from the catchment area upstream of the Kinta River.
Both the water treatment plants are adequately equipped with the Supervisory Control and Data Acquisition (SCADA) System that provides an integrated, real time data acquisition and monitoring system for the production and distribution activities of treated water.
To view the water treatment process, please Click here.
Under Phase I and II Works of the Concession Period (Year 1-12), has successfully completed a wide range of capital works (ranging from raw water intake, treatment plant, distribution mains and reservoir) amounting to USD49 million, which comprises a length of 128km pipelines laid, construction of ten (10) reservoirs with a storage capacity of 193,000 cubic meter of water, and the upgrading works of the two water treatment plants.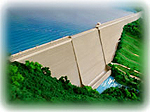 is the Project Manager for the construction of the Sungai Kinta Scheme (worth USD63 million). The project comprises of a Roller Compacted Concrete (RCC) dam of 760m long and 90m high across the Kinta River, a new water treatment plant with design capacity of 227,000 cubic meter per day and, new pipelines. The RCC dam at Kinta River will be the first of its kind in Malaysia.
Our Goal ­ Commitment To Water Quality And Control is committed to providing quality treated water by adhering closely to the criteria stipulated under:-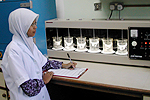 World Health Organisation's (WHO) "Guidelines for Drinking Water" and the "National Guidelines for Drinking Water Quality"; and
MUC's Company's Quality Policy Statement.
Monitorings of the water supply produced are carried out jointly with the Ministry of Health, the Chemistry Department and Lembaga Air Perak.
^ Top